Hold the Date! UU Forward Together Fall Gathering (On-Line),

Sunday, November 22, 2020, 4:00 - 5:30 pm

.
Stay tuned for more details coming soon on our website (www.uuforwardtogether.org), Facebook page, and next newsletter.
October 2020
In This Issue
Justice Matters
A Prayer for These Times (Nadia Bolz-Weber)
Forward Together News & Events
Forward Together Fall Gathering
The Story of "Two Nanas" & Sunday Voting
UU the Vote in NC: 33 Days Until the Election
$5,000 Funding for NC Democracy Organizations
Spiritual Nourishment for Activists
Friday Action Hours
Hey You (UU)! Can You Spare a Dime?
Justice Partners News & Events
Harvest the Power: Week of Action
Conversations Across Ideological Divides
Expand Medicaid in North Carolina
Poor Peoples Campaign: Poll Monitors
CJJ: NC Black Lives Pledge
UU College of Social Justice: Justice Workshops for UU Congregations
Congregations Making Justice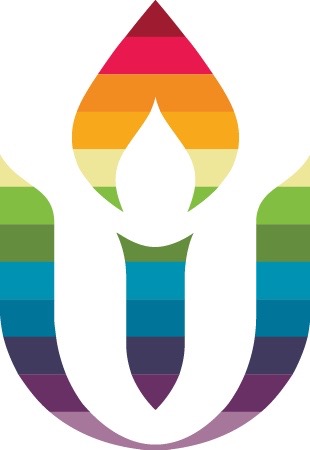 "Two Nanas" from Piedmont UU Church Win Battle for Sunday Voting
In February 2020, a large group of concerned citizens gathered at our local Board of Elections to request Sunday voting be included in our county's Early Voting Plan. We overflowed the room, kept turning up until the pandemic closed physical participation and kept moving forward through email and social media.
Fast forward to August 31, 2020: We won the battle for Sunday voting.
How did we do it? Passion, Looming Deadlines, Good Friends, A Just Cause, Persistence, Truth to Power, Knowledge, and Personal Contact in the Time of COVID.
A Prayer for These Times
God of many names,
We don't know how to feel less tired.
We don't know how to vanquish our own fears.
We don't know how to stop being angry at stupid people on Facebook or Twitter.
We don't know how to live through a global pandemic and anti-black violence and wildfires and hurricanes and the fact that Ruth Bader Ginsberg just died.
We don't know how to sustain the effort it takes to not completely freak out, and the effort it takes to keep from freaking out is one of the things that is making us so tired.
So we need some reminders right now, God.
Remind us that for every tragedy that's "newsworthy" there are a million kindnesses, and countless acts of love that go unreported.
But more than anything, remind us of our own souls. Remind us that there is an essential, holy, unhurtable part of ourselves that never tires, that does not know fear, that is unaffected by other people, that cannot be irritated, that has nothing to achieve.
If taking a few deep breaths reminds us of our truest center, then nudge us to breathe. If laughing our asses off reminds us of what is most true, then nudge our friends to send funny texts. If eating a vegetable now and then reminds us that our bodies need us, then give us the will to make a salad.
May it be so. Amen.
Nadia Bolz-Weber [adapted]
Forward Together News & Events
NC UU the Vote: 33 Days to the Election!!!
Thank you to all those who have been a part of our NC UU the Vote Campaign.
So far this year we have...
Engaged 653 people across 16 North Carolina congregations.

Written 28,880 postcards in partnership with Reclaim Our Vote and the NC NAACP.

Engaged 91 UUs across 10 states in over 350 hours of phone banking making 6,733 calls to NC voters so far.

Distributed voter education materials as You Can Vote - Voting Rights Champions.

Engaged in critical County Board of Election advocacy to ensure safe and fair elections.

Signed up to be poll workers and poll protectors.
Please join UUs across the state and country in our upcoming phone banks with Reclaim Our Vote and the NAACP every Thursday until the election from 6:00 - 8:00 ET. Register here.
National UU the Vote Donates $5,000
to NC Organizations
A big shout out of gratitude to the UUA and our national UU the Vote team for providing $5,000 to front-line democracy organizations in North Carolina to help support powerful non-partisan voting work in the final stretch before the election:
Blueprint North Carolina

Down Home North Carolina

Indivisible Asheville / Western NC

Beloved Community Center Greensboro

Ministers' Conference in Winston Salem

The Latino Coalition, Charlotte
This funding is in addition to the UU the Vote funding that UU Forward Together already received from the UUA this year.
We'd also like to thank the ministers and lay leaders across our NC UU the Vote team who helped us distribute this money in the most equitable and impactful way possible.
And finally, we're happy to report that Forward Together has been able to support a grassroots voter registration effort in Morehead City with funding from a previous UUA grant.
Spiritual Nourishment for Justice Activists (Oct. 4th @ 4:00 pm)
Join Forward Together this Sunday, October 4th at 4:00 pm for our monthly Spiritual Nourishment zoom call. This is an opportunity every first Sunday of the month to care for our spirits and reflect on our justice work through the lens of faith and our spiritual journeys.
UU Forward Together Friday "Action Hours"
In the coming weeks we'll be calling on Senator Tillis to hold off on filling RBG's seat on the Supreme Court until after the election.
We'll also be making phone calls to our local elected officials urging them to take the NC for Black Lives pledge.
Join the movement every Friday at 11:00 on Zoom https://zoom.us/j/91029655107
Hey, You (UU)! Can You Spare a Dime?
This year, North Carolina UUs have responded to this unprecedented moment by coming together in service to the larger movement for liberation in our country. Along the way we have grown as organizers, and have deepened our relationships with each other and our beloved partner organizations - knowing that we must be in this work for the long haul.
As we come to the close of our calendar year, and our fiscal year, we are asking for you to invest in Forward Together as a force for justice in our state.
When you (and your congregation) support UU Forward Together, your support not only helps us support the social justice work that you and your congregation are doing but also the statewide platform that lets us do together the things that no single individual or congregation can do on its own.
We hope to grow our capacity and our impact in the coming years, but we can't do that without the generous, grassroots support of congregations and individuals across our state.
We know that the continuing pandemic has financially impacted every UU congregation and many, if not most, UUs in North Carolina. But we also know now, more than ever that we must know our power, get organized and take action.
As an individual, please consider making a generous donation as part of our end of year appeal.
As a congregation, if you have not already given or pledged your financial support this year, please consider supporting Forward Together through your congregation's budget, a special collection, or fundraising with a contribution that is at least 1/4 of 1% of your congregation's annual budget.
Justice Partners News & Events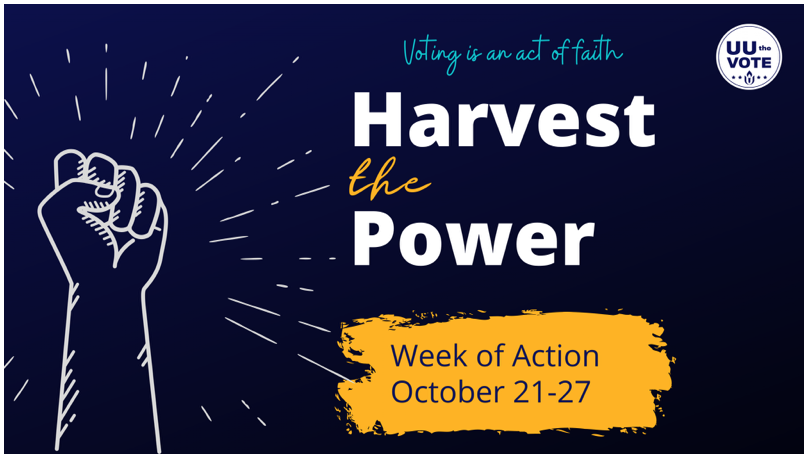 "Harvest the Power" Week of Action
Join nearly 1000 UUs in committing to join the Harvest the Power Week of Action, October 21-27.
Sign the "Vote Love" Pledge! Then let us know what actions you'll be taking personally, and how you're going to organize your congregation to join you!
October 21-27: Host a UU the Vote Phonebank with your Congregation
October 21-27: Prepare for work after Election Day. Watch "Ready and Resilent: Organzing for Nov 3rd and Beyond."
October 21: National Phonebank to Wisconsin
October 24: National Phonebank to Pennsylvania
October 25: UU the Vote Evening Worship
October 26: Vote Love Pledge Rally with DJ Carmen and special guests
October 27: National Phonebank to Florida
Conversations Across Ideological Divides
In this moment, we are called to have critical values-based conversations with friends and family about the election.
The VOICE project led by Dr. David Campt is here to help!
This free online series provides strategies for effective dialogue to help us mobilize non-voters and initiate healthy conversations across ideological divides.
For more information visit: thedialoguecompany.com/voice. You can also see an intro video to the project here.
Expand Medicaid in North Carolina
The NC Poor People's Campaign has joined Southerners 4 Medicaid Expansion, a coalition of advocates and organizations in eight Southern states whose governments have so far refused to expand Medicaid under the Affordable Care Act, for a Digital Vigil for Medicaid Expansion on Thursday, October 1st. The digital vigil will be moderated by Stacey Abrams and the keynote speaker is our own Rev. Dr. William J. Barber, II. Register for the event here and sign the petition here to support this regional fight for Medicaid expansion.
NC Raise Up, North Carolina Poor People's Campaign, Fayetteville PACT, Action NC and other partners are coming together to demand HEALTHCARE FOR ALL and WORKER SAFETY! Ensuring universal healthcare access and workplace safety are racial justice issues. Low- wage workers are disproportionately Black and Brown people AND a disproportionate number of Black and Brown people do not have access to healthcare. Our moral fusion movement also demands health and safety for incarcerated folks. The Cumberland County Jail has had one of the worst COVID-19 outbreaks in the state and has neglected inmates who require medical attention. In solidarity with the Non-Violent Medicaid Army taking action across the country, we will march together for justice on Saturday, October 3rd @ noon, starting from the Market House on Market Square in Fayetteville! RSVP here.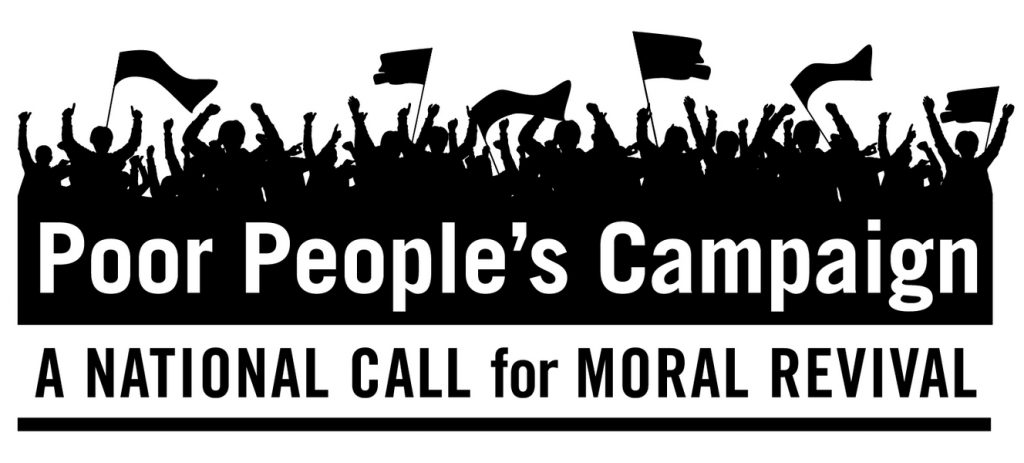 Protect Our Election: Volunteer Poll Monitors Needed!
The Poor People's Campaign, Forward Justice & the NAACP Legal Defense Fund have partnered to provide election protection in ten key states. We hope to have 200 poll monitors working in each of the following states: Alabama, Georgia, Kentucky, Louisiana, Michigan, Mississippi, North Carolina, Pennsylvania, South Carolina and Texas.
We know it'll take each of us to protect our democracy, but we're up for the challenge.
If you're interested in being a poll monitor, please sign-up for one of the non-partisan trainings and encourage your friends and family who may be interested to do the same.
Trainings will be held via Zoom and will last 1.5 hours. During training we'll learn how to spot issues, report problems and assist voters.
Rabbi Salem Pearce, Executive Director of Carolina Jews for Justice writes: "On Wednesday I wept for Breonna Taylor, and for her family and friends. A grand jury indicted one officer involved in the incident that took her life — but only for wanton endangerment. The bullets that missed her neighbors were deemed of more import than the ones that took her life. And unsurprisingly, the same system that killed her also failed to bring about the justice she deserves.
"In the face of such disregard for the value of a human life, we must affirm that "Black Lives Matter," each day and every day. And so we invite you to join CJJ in signing the NC4BL pledge. CJJ made the commitment as a partner of Blueprint NC; you can sign as an individual, or get your organization or your elected officials to sign.
I commit to address anti-Blackness and white supremacy in our communities by using my voice, access, and privilege to advocate for the investment into Black communities and a divestment from the systems that benefit from the murder, incarceration, and disenfranchisement of Black people. I commit to being a co-conspirator in the fight for liberation and dignity of all.
On-Line Justice Workshops for UU Congregations
The UU College of Social Justice offers three different justice workshops (Faith In Action, Speaking Justice in the Language of our Faith, and Saying Yes and Saying No) for UU congregations wanting to deepen their capacity for effective, grounded activism.
All have been adapted to an online format, and in many cases, supplemental coaching can be offered. Find out more and schedule a workshop here.
Congregations Making Justice
On October 4th, the Eno River UU Fellowship's Social Justice Council will be convening an on-line "all congregation conversation" on electoral justice featuring You Can Vote's Executive Director, Kate Fellman, and UU Forward Together's Executive Director, Lisa Garcia-Sampson.
The Eno River UU Fellowship's White Awareness Group offers an intentional space where white people gather to support each other as we awaken to, examine, and heal from the racialized trauma of white supremacy. This year, ERUUF's WAG will approach our work through Me and White Supremacy: Combat Racism, Change the World and Become a Good Ancestor, an anti-racist book for white people by Layla Saad.
In addition, ERUUF'S Restitution for Racism Group (RRG) will be hosting a four session on-line discussion on Wednesday evenings in October about the racial wealth gap and restitution. More information: email RRG@eruuf.org.
The UU Fellowship of Winston-Salem's Social Justice Council reports that Fellowship members have addressed and mailed 625 Reclaim the Vote postcards; donated 400 stamps and 400 envelopes to provide absentee ballots to the detention center and residential communities; worked with the Latinx and Spanish-speaking community to encourage voting; and distributed voter information on the HOPE food truck route.
UU Forward Together is pleased to welcome the UU Church of the Catawba Valley as its latest Reclaim Our Vote campaign partner!
Please share your congregation's social justice news by adding UU Forward Together (news@uuforwardtogether.org) to your congregation's social justice mailing list or sending your news to news@uuforwardtogether.org.
Forward Together is the Unitarian Universalist Justice Ministry of North Carolina -
an independent, nonpartisan, progressive faith-based social justice advocacy organization that works with Unitarian Universalists, Unitarian Universalist congregations, and other progressive faith-based and secular social justice organizations to "give life the shape of justice" in North Carolina through education, organizing, mobilization, witness, protest, advocacy, grass-roots lobbying, and direct action.