Justice Matters
"Broken & Healed" (Rev. Sadie Lansdale)
Forward Together News & Events
UU the Vote in NC Update
Action Alert: Responding to the COVID-19 Emergency
Demanding an End to ICE Family Separation Policies
Speaking Out in Support of Low-Wage Workers
State Legislature Reconvenes April 28
Forward Together Fall Gathering
Justice Partner News & Events
Defeat Hate in 2020 Webinar
COVID-19 Immigration Justice Resources
NC "Tuesdays with Tillis"
UU Ministry for Earth
UUs for Social Justice: Write Here! Write Now!
Democracy NC: On-Line Voter Registration
You Can Vote: "Get Out the Count" Phonebank
UU Social Justice UniverseMap
Revolutionary Love Conference Update
Poor Peoples Campaign Update
Congregations Making Justice
Side with Love & Love Resists Webinar:
April 2nd @ 6:30 pm
Join UUA President Rev. Susan Frederick-Gray, UUSC President Rev. Mary Katherine Morn, Emma's Revolution, Side with Love Campaign Manager Everette Thompson, Organizing Strategy Director Rev. Ashley Horan, Dr. Charlene Sinclair of Black PAC & Intern Minister at First UU Richmond, a Detention Watch Network Organizer, and UUs from across our black, brown, LGBTQ and justice networks.

This 1 hour and 15 min. Zoom webinar will offer the interconnectedness of spiritual sustenance and movement organizing as a means to live into the values and principles of Unitarian Universalism and work for justice and transformation.
Broken & Healed
Rev. Sadie Lansdale, Minister, UU Church of Greensboro
In her Facebook Live homily last Sunday (March 29th), Rev. Sadie Lansdale spoke about her anger at the abject failure of political leadership in the face of the COVID-19 pandemic, the false narrative of dependency, what America and Americans need and deserve in these chaotic and uncertain times, and how compassion can heal the brokenness that we are experiencing.
Click the button to see and listen to a video of Sadie's homily.
Forward Together News & Events

UU the Vote in NC Update
Over the past few weeks, UU Forward Together's Executive Director, Lisa Garcia-Sampson, has been working hard to
establish stronger working relationships between North Carolina UUs and Democracy NC and You Can Vote;
organize a state-wide UU the Vote planning team and identify regional captains and congregational contacts for UU Forward Together's UU the Vote campaign; and
develop a grant proposal to obtain funding from the UU Funding Panel and UUA to support the UU the Vote campaign in NC.
Our grant proposal was submitted this past week and now we're waiting to hear whether it will be approved and how much funding we'll receive. So stay tuned and keep your fingers crossed.
And, in the meantime, click the links below for more information about UU the Vote in NC.
Giving Life the Shape of Justice during the COVID-19 Pandemic
UU Forward Together's March 24th Action Alert offers several suggestions about how UUs in North Carolina can give life the shape of justice during the COVID-19 emergency.
Please click the button below to learn more and act now!
Demanding an End to ICE Family Separation Policies
UU Forward Together was one of five organizations (along with El Centro Hispano, Carolina Jews for Justice, La Semilla, and Apoyo) that officially co-sponsored the March 10th Tuesdays with Tillis rally to "Stop Family Separation" in Raleigh.
The rally highlighted the many ways that families are being separated by Trump's immigration policy, both at the border and in our communities.
Speaking Out in Support of Low-Wage Workers
In response to a request from NC Raise Up/Fight for $15, UU Forward Together's President, Rev. John L. Saxon, released a statement in support of low-wage workers during the COVID-19 emergency.
"The social and economic impacts of the COVID-19 pandemic," he said, "are showing us, more clearly than ever before, that justice, morality, love, and fairness call us as citizens, as people of faith, as employers, and as a state and nation to support working people and their families by
adopting a minimum wage of at least $15 an hour for all workers,
requiring employers to provide paid sick leave for all of their employees, and
ensuring that everyone has access to affordable health care."
"It's time," he continued, "to do the right thing for the working people who are the foundation of the society and economy that are supposed to benefit all of us but, too often, leave so many behind."
State Legislature Reconvenes on April 28th
The North Carolina General Assembly will reconvene in Raleigh for its "short" legislative session on Tuesday, April 28th.
And when state lawmakers return to Raleigh later this month, it's really important for them to hear our voice demanding that they
expand Medicaid to provide access to affordable health care for all North Carolinians;
fix North Carolina's broken unemployment compensation system and use the $3.9 billion unemployment reserve fund to provide unemployment benefits for all workers who have been impacted by the COVID-19 emergency;
enact legislation to create a proposed bipartisan "Main Street Emergency Bridge Loan" program and use money from the state's "rainy day" ($1.5 billion) fund and budget reserve (900 million) fund to provide zero interest loans to small businesses impacted by the COVID-19 emergency; and
take action to ensure that every eligible voter is able to vote in a free and fair election this fall.
UU Forward Together will be sending out Legislative Updates before and during the upcoming legislative session as well as Action Alerts encouraging UUs to contact state lawmakers about pending legislation.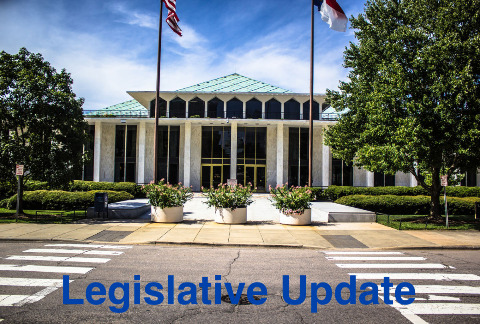 UU Forward Together Fall Gathering: November 7, 2020
Please Save the Date: UU Forward Together's Fall Gathering is scheduled for Saturday, November 7, 2020 at the UU Fellowship of Raleigh, 3313 Wade Av., Raleigh, NC 27607.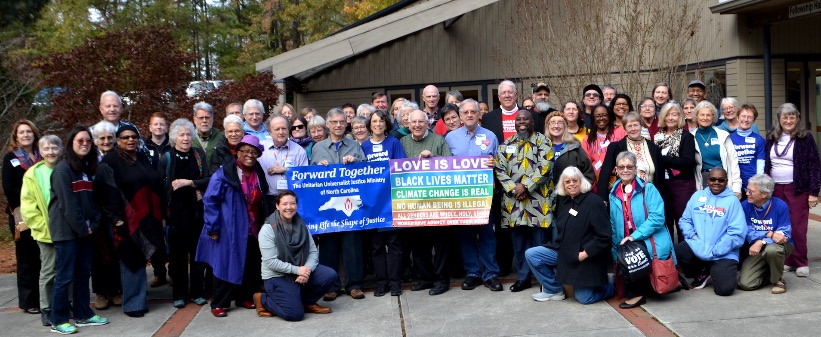 Giving Life the Shape of Justice
UU the Vote "Defeat Hate in 2020" Webinar (April 7)
UU the Vote has partnered with the National Equality Action Team (NEAT) to give you the opportunity to #VoteLove and #DefeatHate in 2020.
NEAT mobilizes hundreds of volunteers across the country via an online phone bank system to talk to voters in states from coast to coast about issues that advance LGBTQ+ justice.
RSVP now to join the Defeat Hate in 2020 webinar, April 7th @ 7:00 pm (EDT).

Love Resists: COVID-19 Immigration Justice Resources
Are you involved in immigrant justice solidarity organizing?
Love Resists offers you these Resources on COVID-19 from the Immigrant Justice Accompaniment Skill-Share Network.
NC "Tuesdays with Tillis" Goes Digital
For more than 160 consecutive Tuesdays, people have gathered outside Sen. Tom Tillis's office in Raleigh to protest and advocate for progressive social policies that protect and include all Americans--documented and undocumented and poor as well as rich.
Unfortunately, the COVID-19 has forced Tuesdays with Tillis to suspend its in-person gatherings in Raleigh. But they will continue to gather weekly via Zoom (https://zoom.us/j/919272764) and via their Facebook page and group.
UU Ministry for Earth
UU Ministry for Earth (UUMFE) invites you and members of your congregation and community to join a book discussion of "As Long As Grass Grows: The Indigenous Fight for Environmental Justice, from Colonization to Standing Rock" with special guest, author Dina Gilio-Whitaker, Thursday, April 9, 7:30 - 9:00 pm. RSVP. Facebook.
UUMFE will also be offering a free screening and discussion of the documentary film "The Condor & The Eagle" on Saturday, April 4 @ 2:00 pm. RSVP.
The UU-United Nations Office (UU-UNO) Intergenerational Spring Seminar, "All in for Climate Justice: People • Power • Planet" (April 16- 18th) will be a virtual event due to the current threat posed by the COVID-19 pandemic. Registration for the seminar will be free, with donations encouraged! Stay tuned for the updated schedule and new registration link on the UU-UNO's Spring Seminar website!
UUMFE is also seeking an infusion of fresh blood, inspiration, enthusiasm and diversity for its Board (as well as a new treasurer) to help it grow its collective UU organizing capacity and develop more robust relations with UU congregations, ministers, and religious professionals. Qualities like curiosity, flexibility, and creativity are valued, and they welcome self-starters with good humor! Interested? Learn more from its online UUMFE Board position description.

UUs for Social Justice "Write Here! Write Now!"
"Write Here! Write Now!" is an ongoing campaign by UUs for Social Justice to engage UUs and UU congregations all across the US to lobby our US Senators and congressional Representatives with respect to important environmental, economic, and social justice issues.
In April and May, UUSJ's WHWN partner congregations will be writing letters to members of Congress in the House and Senate to demand action to address harmful greenhouse gases caused by "super pollutants."
Super-pollutant greenhouse gases such as methane, black carbon (aka soot), nitrous oxide, chlorofluorocarbons (CFCs) and hydrofluorocarbons (HFCs) don't have a long lifespan in the atmosphere (measured in days and decades rather than the centuries that carbon dioxide could hang around) but data suggest they have an outsize negative impact on the global warming trend during their aerial lifespan. Indeed, some figures suggest that, collectively speaking, super pollutants may be contributing as much as 50 percent to the current warming trends of the planet. Without more aggressive reduction or phase-out measures, there's a strong possibility that temperatures could rise 1.5 degrees Celsius before 2030 (barely a decade away) with catastrophic implications for human health, according to a 2018 event report.
To address the climate crisis, we must reduce harmful greenhouse gases. A bi-partisan bill now in the House and Senate can help make that happen, while creating new jobs. The American Innovation and Manufacturing Leadership Act (AIML), H.R.5544, is a bipartisan bill (also supported by the business and environmental communities) to reduce hydrofluorocarbons (HFCs) by 85% over 15 years.
Letters to your congressional representative should be delivered to UUSJ by postal service or email by 4:00 pm (EDT) on Thursday, April 16th.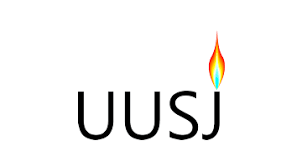 Democracy NC: On-Line Voter Registration
The NC state Board of Elections recently announced that the NC Department of Motor Vehicles (NCDMV) is now offering online voter registration (OVR) as part of services available at the NCDMV website.

That means if you have a North Carolina driver's license or NCDMV-issued ID, you can now apply to register to vote or update existing voter registration information — all online. Even better, this free, standalone service DOES NOT require you to complete another NCDMV transaction, such as renewing or duplicating a license, at the same time.
This action is the latest move by our state's leaders to assist voters when many county boards of elections have limited access or are closed to the public, and residents are being asked to stay home because of the spread of COVID-19.
OVR will allow more eligible voters to take part in the political process and have their say this year — no matter where you live or who you're voting for. That's good news for our democracy at a time when we need it most.
It's also our hope that OVR is the first of many near and long term steps that North Carolina's leaders will take to preserve voting access in light of this unprecedented crisis, including expanding absentee voting access and poll worker recruitment. The state has a responsibility to ensure a fair, inclusive, and accessible election this fall — including for those voters most affected by this crisis and those who face chronic barriers to the ballot.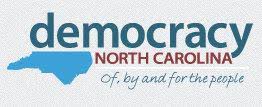 You Can Vote: Census 2020 Phone Bank
Although the deadline for completing the 2020 Census has been extended to August 14, the Census Bureau has sent an urgent request asking everyone to complete the Census on-line, by phone, or by mail as soon as possible so they can reduce the amount of door-to-door canvassers during this public health crisis.
You Can Vote is seeking volunteers to join its at-home "Get Out the Count" phonebank army (they'll train you!) to educate NC residents on the importance of completing the Census online, by phone or by mail. Sign up at youcanvote.org/events.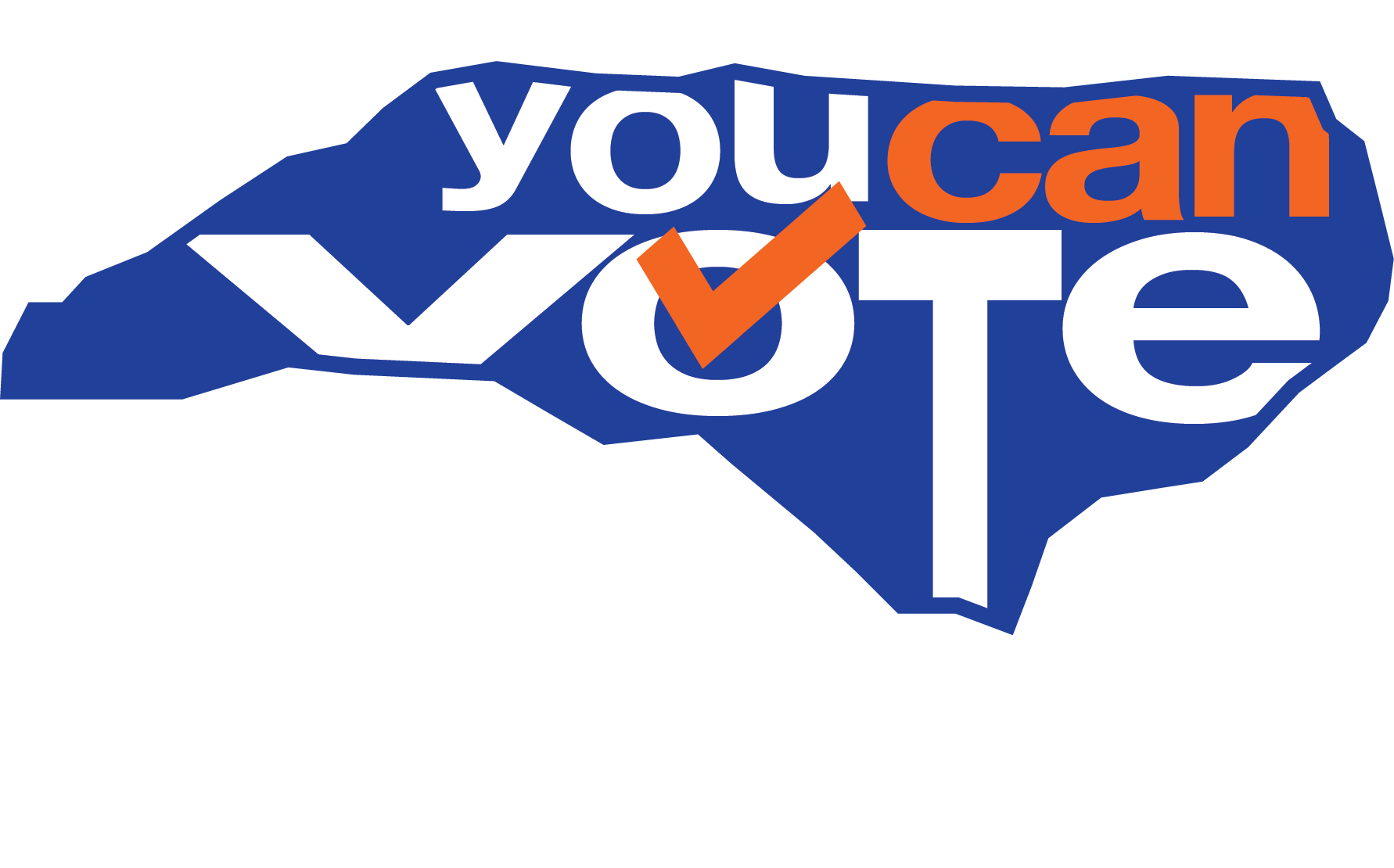 UU Social Justice Universe Map
The UU College of Social Justice has created an interactive and shareable map of the UU Social Justice Universe (https://prezi.com/view/Xi4sDwB4jnvnQA4fuqOD/) that will live on their website (but can also live on your website if you want).
Please let them know if you have any updates or corrections. It's a dynamic map, so when we make changes, anyone with this link will see the most updated version.
Revolutionary Love Conference Update
Due to uncertainties caused by the COVID-19 pandemic, organizers of the Revolutionary Love conference (April 24-26) will make a decision by March 31 about how to deliver the conference. Check their website for updates.
Poor People's Campaign March on Washington Update
The national Poor Peoples Campaign has announced that its Moral March on Washington on June 20, 2020 will not be postponed but will be transformed into an on-line and digital event.
Although we won't be able to gather physically in Washington DC, it is paramount that we have a forum where poor and low-wealth people can share their truths with a nation that needs its heart broken. And so, we'll hold the largest digital and social media gathering of poor and low-wealth people and people of conscience in this nation's history.
The COVID-19 global pandemic is exposing the already existing crisis of poverty in America, and we are going to bombard every member of Congress and the White House so that we raise up the demands of the Poor People's Campaign: A National Call for Moral Revival.
If there was ever a time for a massive outcry, it's right now. People are hungry for bold, visionary solutions, not just to this current crisis, but to systemic racism, poverty, ecological devastation, the war economy and the distorted moral narrative of religious nationalism. Poor and low-wealth people know the solutions we need.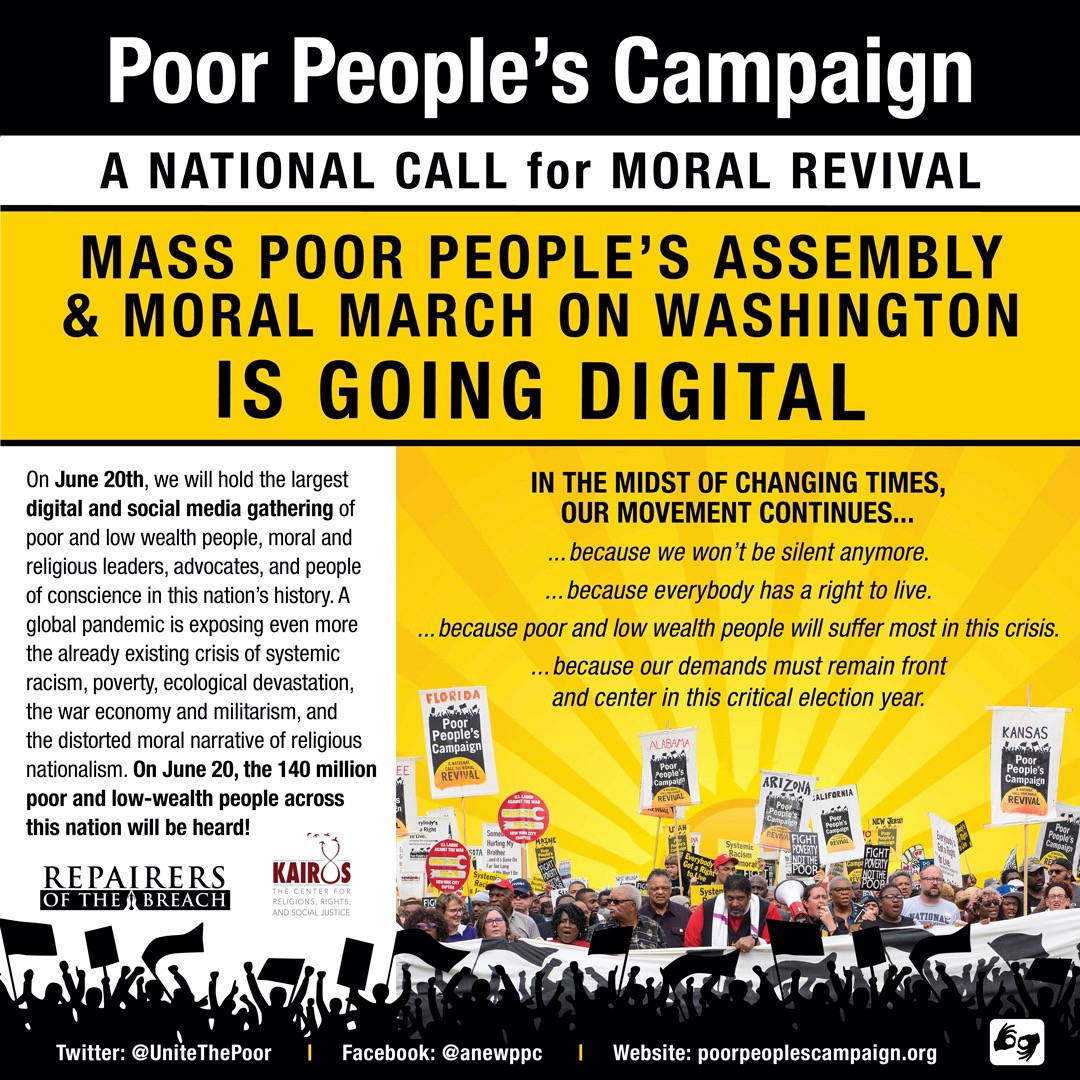 Congregations Making Justice
Please share your congregation's social justice news by adding UU Forward Together (news@uuforwardtogether.org) to your congregation's social justice mailing list or sending your news to
news@uuforwardtogether.org.
On March 25th, Rev. Sadie Lansdale, Minister of the UU Church of Greensboro, joined other young clergy colleagues in Greensboro in front of Camden Health & Rehabilitation (an elder care facility in Greensboro) to demand that they provide paid sick leave and take other actions to protect their employees from COVID-19.
The Eno River UU Fellowship's Sustainable Living Fair (April 11, 9:00 am - 3:00 pm) will be on-line featuring talks by experts in various domains of sustainable living, including a keynote by Crystal Dreisbach, Founder & Executive Director, Don't Waste Durham. Other potential topics include waste reduction, organic lawn care, sustainable furnishings, residential solar battery technology, and more! Please register by April 9.
The Social Justice Documentary & Dialogue program hosted jointly by the UU Fellowship of Winston-Salem and Parkway United Church of Christ is scheduled to resume on April 29th (at Parkway UCC) showing a documentary on the "Beating Guns" initiative.
Forward Together is the Unitarian Universalist Justice Ministry of North Carolina -
an independent, nonpartisan, progressive faith-based social justice advocacy organization that works with Unitarian Universalists, Unitarian Universalist congregations, and other progressive faith-based and secular social justice organizations to "give life the shape of justice" in North Carolina through education, organizing, mobilization, witness, protest, advocacy, grass-roots lobbying, and direct action.